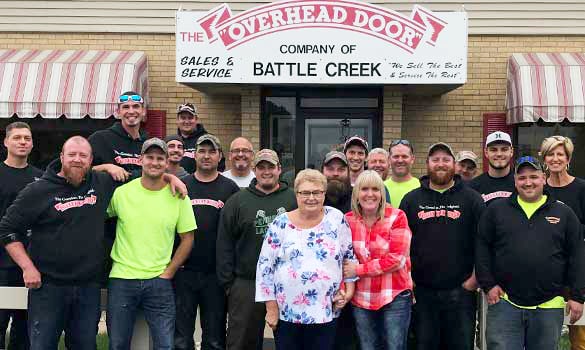 About Overhead Door Company of Battle Creek & Jackson
Overhead Door Company of Battle Creek was founded in 1978 by Marshall (Don) Whitaker in a 1200 sq. ft. combined office and warehouse with two employees. Overhead Door Company of Jackson was opened soon after in 1982. Don retired in 2002, and the business is currently owned and operated by Marshall's son, David.
By the grace of God, amazing customers, loyal hardworking employees and Dons' vision, we are 35 employees strong with separate facilities in Battle Creek and Jackson, serving all of western and central Michigan. We salute our founder and know we owe so much of our success to our hardworking technicians that blend their skill in the industry and customer service to create a positive business environment.
To provide our customers with an authentic service experience focusing on their specific needs and expectations.
PROUD MEMBERS OF THE FOLLOWING ASSOCIATIONS
Home Builders Association of Western Michigan (HBA)
The Home Builders Association of Western Michigan, established in 1946, is the professional association for members of the housing industry in Kalamazoo, St. Joseph, Calhoun, Branch and Van Buren Counties as well as parts of Allegan and Barry Counties. The HBA exists so that members of the residential construction industry can ethically and efficiently provide their communities with safe, quality, and affordable housing.